Marksman's Enterprise

Arizona
Phone/Fax 602-549-7389
Send email to crews@sprynet.com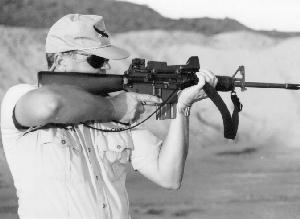 Marksman's Enterprise is a small mobile shooting school, home based in Avondale, Arizona. As a mobile training unit we have tailored our programs and equipment to bring the school to the gunhandler. Marksman's Enterprise does not have a home range.
What to expect and not to expect from a Marksman's Enterprise course.
The shooter can expect a relaxed, friendly atmosphere in which to train. Expect to expend only that amount of ammunition required to properly learn and perform an individual technique. Once a class is performing a technique without significant problems, additional techniques will be presented. During the class additional opportunities will perfect a drill or technique. Expect to have personalized instruction to find causes and cures for any shooting problem.
Do not expect a static range training program. This is a defensive shooting school, as such the shooter can expect to move tactically, use cover, concealment and apply the principles of defensive marksmanship in standard and non standard shooting positions including shooting on the move.
Do not expect long distance shooting drills, handgun programs are usually oriented toward the conversational distance. Typically in an Intermediate Handgun program drills will be conducted from arms length to approximately 15 yards, in an Advanced Handgun program drills will be conducted form arms length to approximately 25 yards. Long gun programs are generally oriented towards the conversational to the average urban encounter distance. In an Urban Carbine and Shotgun program drills will be conducted from arms length to 100 meters.
Do not expect to be forced into one specific style of shooting or technique. We believe that what works for you is right. If it is working, great, if not, we can offer alternate techniques that may more effectively work for the shooter.
Do not expect to be told that we offer the best program available. We do feel that we offer a high quality product, based on sound training, and experience. We realize that there is more than one way to accomplish a task. It is up to the shooter to fill his toolbox and apply those tools to the job as only he can best determine.
What you will get from a Marksman's Enterprise course
You will get what we believe to be a sound basis in the fundamentals of "gunfighting"- marksmanship, gunhandling and tactical thinking. You will develop an understanding of your shooting problems if they exist and how to control them. You will leave the course with a better understanding of what is necessary to accomplish the task.
What you will not get from a Marksman's Enterprise course
You will not get all of the answer or the ultimate answer. As in the case of any project, the first course is only the beginning. We offer some of the answer.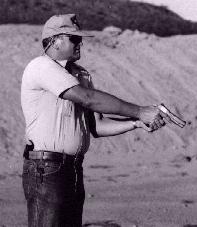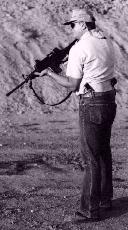 Credentials for Jim Crews
Yavapai Firearms Academy LTD.
Tactical Rifle, Level 1 & Advanced Handgun, Shotgun, Colt Auto Pistol Instructor Program
Gunsite Training Center
General Pistol, Special Pistol, Advanced Tactical Problems, Provost-In-Arms (Pistol Instructor), Tactical Carbine, Tactical Shotgun
Arizona Department of Public Safety
Arizona Department of Public Safety certified to conduct firearms training for security guards licensed by the Arizona Department of Public Safety and as a Firearms Safety Training Instructor authorized to conduct Concealed Weapon Permit Training Certifications
National Rifle Association
NRA Basic Pistol/Shotgun Instructor Certification, NRA Law Enforcement Instructor School Graduate (Security)
United States Marksmanship Academy
Intermediate & Advanced Defensive Revolver, Expert Tactical Pistol, Combat Shotgun, Tactical Rifle Marksmanship, Advanced Tactical Rifle Marksmanship
Thunder Ranch
Urban Rifle - Colt AR-15
California Department of Justice
Department of Justice Certified Basic Firearms Safety Course Instructor
Ranges
Marksman's Enterprise has full access to a 1000 yard rifle range, a 200 yard rifle range, 100 yard rifle range and a practical pistol range. Range fees generally run $6.00 per day per shooter.
---
Copyrighted © 1997-1999 Jim Crews
Go back to Homepage